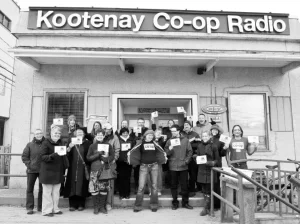 Incorporated: 1998
Type: Community Service Co-op (non-profit) 
Membership:
Location: Nelson
Website: kootenaycoopradio.com
Bio: Kootenay Co-op Radio was started by a small group of volunteers in December 1996 and incorporated as a non-profit service co-operative in June 1998 in Nelson. Intermittent broadcasting in the Nelson region began in February 1999, with a 28-day special event broadcast license, and finally went on the air full-time the following autumn after being granted a permanent CRTC license in August 2000.  On November 6, 2000, the station began broadcasting about 18 hours a day at a power of 75 watts. In November 2004, KCR expanded its range and began broadcasting in the Kootenay Lake region, north of Nelson, on a new FM frequency, 96.5 FM. In fall 2008, KCR began broadcasting in the community of New Denver at 107.5 FM.  Kootenay Co-op Radio aims to entertain and inform listeners through its commitment to innovative broadcast journalism and high-quality programming.  KCR uses its facilities and the initiative and skills of its members to create a medium for the balanced expression of the varied perspectives of their community.